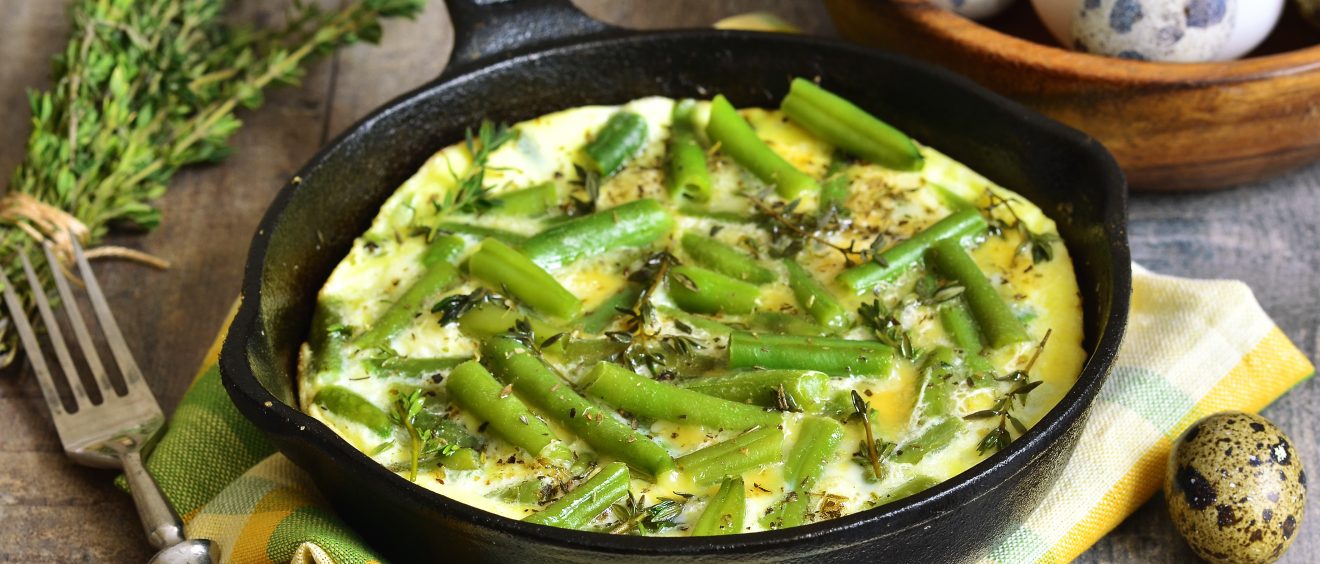 'Eggs'straordinary Asparagus Frittata
We're kicking off our local food and nutrition blog at 5 Koshas Yoga & Wellness by paying homage to that versatile, portable, nutritious, spheroid packet of protein…the egg.  There is no better time than Easter to feature eggs as we all color, decorate, hide, and hopefully find them.
Local farmers usually have a good supply of eggs at this time of year as the chickens respond to longer days and other forces of nature ("Why Chickens Don't Lay Eggs in the Winter").  I witnessed this cycle of nature growing up on a small family farm in central Wisconsin.  Since my mom was the local egg lady, many chores and activities centered on gathering, washing, candling and grading the eggs, trying to get out of cleaning the coop, conversations with neighbors who came to buy eggs, Saturday baking, and finding recipes to deal with an overabundance of eggs.
Eggs have cycled in and out of fashion as fast as hemlines have gone up and down, mainly because they are a dietary source of cholesterol.   Fortunately eggs are back in vogue, even with the American Heart Association.  The reason is that while eggs contain cholesterol, they may not necessarily raise your blood cholesterol.  Your blood cholesterol, long considered a risk factor for heart disease, is affected by genetics, body weight, exercise, diet, stress and other lifestyle factors.
Here are 10 reasons to add eggs to your diet:
No ingredient label necessary – just pure wholesome food produced by happy chickens.
High quality protein – containing all nine essential amino acids.
Inexpensive – only 25 cents an egg when eggs are $3.00 per dozen.
Low calorie – only 75 calories per egg.
Satisfying – a protein/fat profile that has a blood sugar stabilizing effect.
Portable – in an environmentally friendly, compostable package.
Antioxidants – delivering a healthy dose of lutein and zeaxanthin for eyes, and choline for brain health.
Vitamins – a perfect package of several B vitamins and Vitamin A
Minerals – nourish your immune system and thyroid with selenium found in eggs.
Kitchen superhero – easy to make and serving up taste, leavening, and texture.
Egg dishes can be an easy-to-fix quick meal at any time of the day.   I'm especially fond of the versatility of a frittata since it's a great way to enrich your diet with vegetables.   Asparagus is one of the first spring vegetables, so it's a great pairing with those overly abundant spring eggs.
---
Here's a quick and easy Asparagus Frittata:
2 C. Asparagus or other vegetables, chopped into bite size pieces
2 TBSP. Olive oil
6 Eggs
2 – 8 TBSP. Grated Parmesan or other local cheese (you can often use less if you use a more strongly flavored cheese)
1 TBSP. Chopped fresh herbs like parsley, oregano, chives or basil (Substitute 1 tsp. dried herbs)
Salt & pepper to taste
Beat the eggs in a large bowl with the cheese, herbs, salt and pepper.  Heat the olive oil in a small or medium size sauté pan on medium heat.  Sauté the vegetables about 3 – 5 minutes, keeping the texture a little crisp.  Remove the vegetables from the pan and add to the egg mixture.  Turn the heat to low, return the sauté pan to the stove and add a bit more oil.  Preheat the broiler.  Pour the egg mixture into the sauté pan and cook for about 8 minutes, tipping the pan every minute or so to let the runny egg reach the edges to cook.  Once the frittata seems fairly set and solid, finish the top off under a preheated hot broiler until the top is golden.  Turn onto a cutting board or large plate to cut into wedges and serve.  
My favorite Frittata combination:  Asparagus from Stoney Acres or Kamenick Farms or Downtown Grocery, mushrooms, leeks, parsley, chives and Kidwelly Castle cheese from Harmony Dairy Specialty Foods.
Enjoy your exploration with eggs and come visit us again as we focus on locally grown and produced foods from central Wisconsin, nutrition, healthy relationship to food and body image, and active living.
Mary Hilliker, RDN, E-RYT 500, C-IAYT is a Certified Viniyoga Teacher and Yoga Therapist and Registered Dietitian-Nutritionist with 5 Koshas Yoga and Wellness Center and River Flow Yoga Teacher Training School in Wausau WI. Mary offers individualized Yoga Therapy and nutrition counseling. She teaches therapeutic and wellness yoga classes, mini-retreats, workshops, webinars and yoga teacher training.